Advanced Disc Plough Uses for Farming: Enhancing Efficiency in Agricultural Practices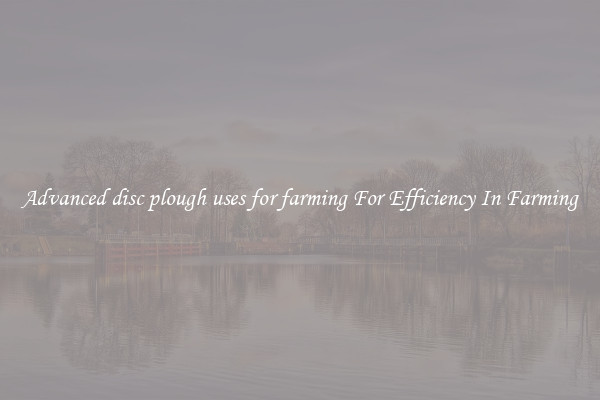 Farming has come a long way in terms of technological advancements, enabling farmers to improve their efficiency and productivity. One such advancement that has proven to be highly beneficial is the use of advanced disc ploughs. These robust and efficient machines have transformed the way agricultural land is tilled, contributing significantly to enhancing efficiency in farming.
One of the primary uses of advanced disc ploughs is soil preparation. These machines are designed to penetrate deep into the soil, breaking it up and turning it over to prepare the land for planting. Unlike traditional ploughs, disc ploughs are equipped with multiple sharp discs set at an angle, allowing them to effectively cut through thick vegetation, rocks, and hard-packed soil. This enables farmers to prepare their fields quickly and more effectively, saving both time and effort.
Another advantage of advanced disc ploughs is their ability to create a well-structured seedbed. As the discs cut through the soil, they not only break up clumps but also create a fine seedbed, ensuring optimal seed-to-soil contact. This facilitates better germination rates and healthier crop growth, ultimately resulting in higher yields.
Moreover, disc ploughs can also be used for weed control. By burying crop residues and incorporating them into the soil, these machines can help prevent weed growth and reduce the need for chemical herbicides. Additionally, the aggressive action of the discs disrupts weed growth patterns, effectively eliminating weeds before they become problematic. This not only saves farmers money but also reduces the environmental impact associated with chemical weed control methods.
Furthermore, advanced disc ploughs are highly adaptable to various soil types and terrain. These machines can be adjusted to accommodate different soil conditions, ensuring effective ploughing and minimal soil disturbance. Whether working on clay, sandy, or loamy soils, or even in hilly or uneven terrains, disc ploughs can consistently deliver outstanding results.
In terms of efficiency, advanced disc ploughs offer other valuable features. Many models are equipped with hydraulic systems that allow for quick and easy adjustments to accommodate changes in soil conditions or switch between different cultivation depths. Some disc ploughs also have wider working widths, enabling farmers to cover larger areas in a shorter amount of time.
In conclusion, the use of advanced disc ploughs has revolutionized farming practices worldwide. These machines offer unparalleled precision, efficiency, and adaptability, making them an invaluable tool for modern farmers. From soil preparation to weed control and seedbed creation, disc ploughs have proven to enhance efficiency in the agricultural sector. As technology continues to advance, it is likely that we will witness further innovations in disc plough designs, further optimizing agricultural practices for even higher yields and increased sustainability.